Ghia Cocktails: 3 Ways (featuring 2 non-alcoholic options!)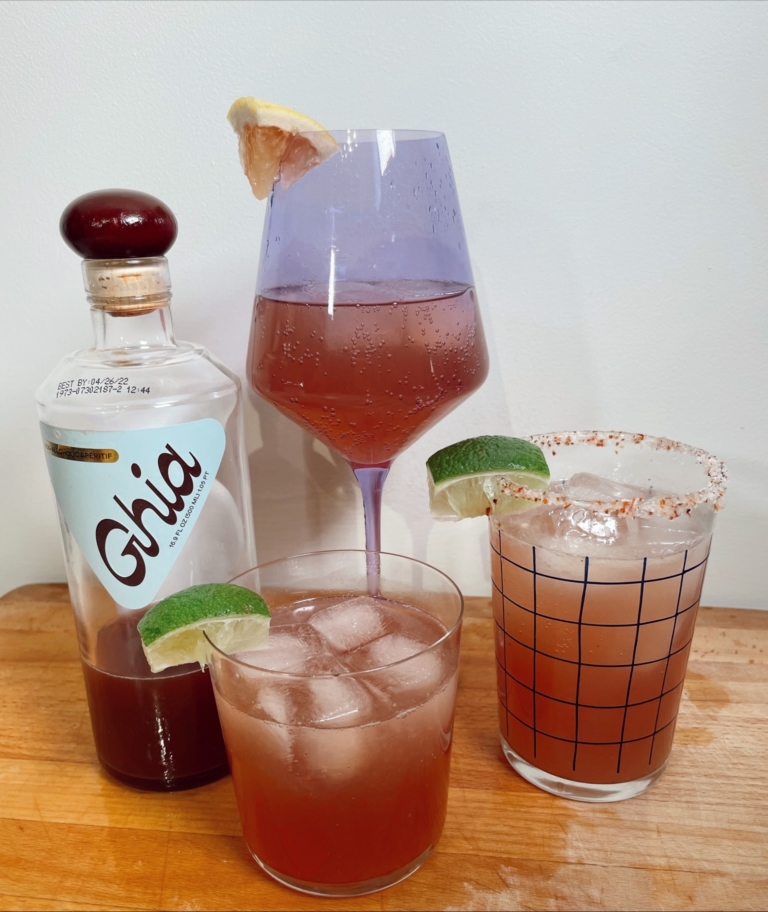 When making cocktails, we strive for inclusivity and ease! We steer away from mile long ingredient lists and look for simple, delicious drink recipes. The sooner we can start sipping, the better. We also want to make drinks that everyone can enjoy. Last year, Tablespoon worked to expand our non-alcoholic drink options. We wanted something delicious and special that could be enjoyed by every guest that walked through our doors.
We came across Ghia, but truthfully, we were not immediately sold. Ghia is a non-alcoholic aperitif concentrate. It's bitter, medicinal and comes on strong! We overdid it with our first taste. The Ghia went to the back of the cooler, but our curiosity remained and a few weeks later we were back to experimenting. We learned that a little goes a long way and we love to tone down the bitterness with something sweet with citrus soda or ginger ale. Soon after, The Tablespoon Spritzer was born when we took a bit of Ghia and mixed it with lime and ginger ale. The result was unique, complex and most important, delicious.
Ghia has quickly become the star of our beverage program and many of our guests buy bottles to enjoy at home. It's refreshing, versatile and pairs beautifully with food. It's also a great remedy for settling your stomach and helping with digestion when you've overindulged or are a bit under the weather.
If you're looking for an interesting conversation starter at your next party, or find yourself looking for alternatives to alcohol, give Ghia a try! And of course, you can make alcoholic cocktails with it as well.
Ingredients
Tablespoon Spritzer (Non Alcoholic)
1

ounce

Ghia

1/2

lime

juiced

8

ounces

Ginger Ale

chilled
Ghia-Rita (Non Alcoholic)
1

ounce

Ghia

1/2

lime

juiced

1/2

grapefuit

juiced

6

ounces

Squirt or Sprite

Kosher Salt

for rim

Tajin

for rim
G.S. I Love You
1

ounce

Ghia

1/2

grapefruit

juiced

5

ounce

Prosecco or sparkling wine
Preparation
For the Tablespoon Spritzer
Fill a large glass with ice. Add Ghia, lime juice and top with ginger ale. Stir to combine. Taste and adjust with more lime or Ghia as desired. Serve with a wedge of lime.
For the Ghia-Rita
On a small plate, mix together kosher salt and Tajin and set aside. Cut a lime wedge, run wedge around the rim of a tall glass and dip the rim into the salt mixture. Add ice to your glass and add in Ghia, lime juice, grapefruit juice, and top with Squirt or Sprite soda. Add a lime wedge or wheel for your garnish. Taste and adjust with soda or juice.
For the G.S. I Love You
In a large glass (we recommend using a large wine glass), add ice, Ghia Concentrate, and grapefruit juice. Stir to combine with a bar spoon, or any small spoon. Top with Prosecco, and garnish with a grapefruit wedge. Taste and adjust with more Prosecco or juice.