Lemon Olive Oil Cake with Pistachio Whipped Cream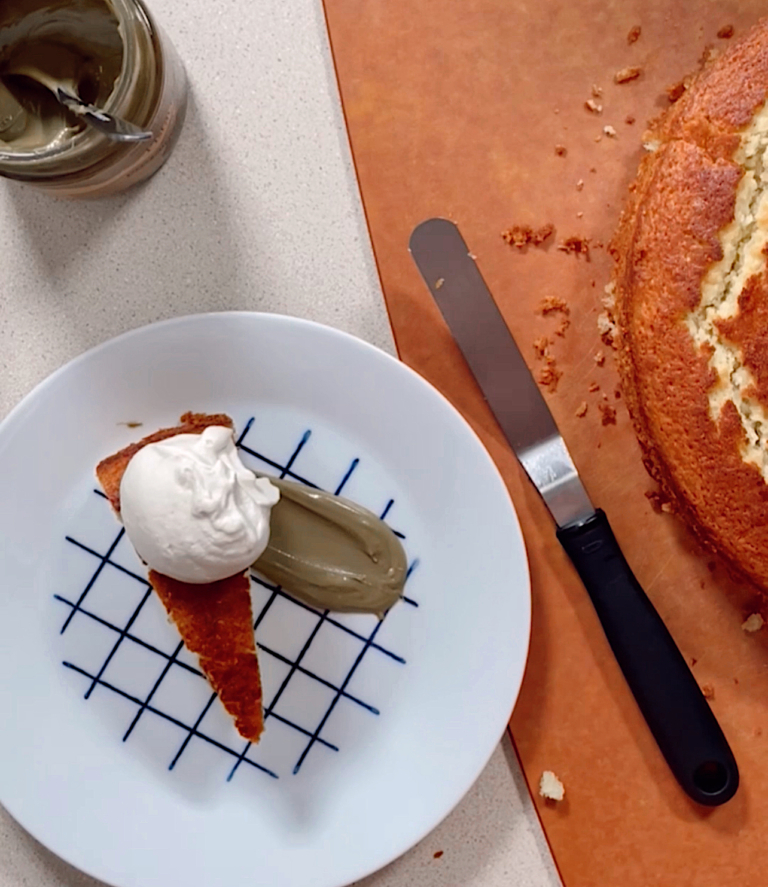 Cake recipe adapted from Molly Baz
This elegant, lemony olive oil cake will take your taste buds to the Amalfi Coast. It's simple to make and full of flavor making it the perfect dessert to whip up to impress guests without the hassle. We love taking simple whipped cream up a level with our silky pistachio spread! How easy is that?
Ingredients
Lemon Olive Oil Cake
2

cups

all-purpose flour

(240 grams)

½

teaspoon

baking soda

½

teaspoon

baking powder

2

teaspoons

kosher salt

1½

cups

granulated sugar

(300 grams)

2

tablespoons

lemon zest

2

large eggs

2

tablespoons

lemon juice

½

cup

plain whole-milk yogurt

1

cup

extra-virgin olive oil
Pistachio Whipped Cream
¾

cup

heavy whipping cream, cold

½

teaspoon

vanilla extract

1

pinch

kosher salt

1

tablespoon

granulated sugar

2-3

tablespoons

Il Colle Del Gusto Sicilian Pistachio Spread
Preparation
Lemon Olive Oil Cake
STEP 1 Preheat oven to 350° F. Start by preparing the cake pan. Cut a round of parchment paper. Using a silicone pastry brush, brush the inside bottom and sides of the pan with olive oil. Place the parchment round on top and brush with more olive oil. Set aside.

STEP 2 Combine flour, baking powder, baking soda, and salt together in a bowl. Whisk to combine. Set aside.

STEP 3 In another bowl, add the granulated sugar. Add the lemon zest and use your fingers to rub the zest and sugar together. Not only will this make your hands feel amazing afterwards, but it helps the oil from the zest transfer into the sugar and makes a more fragrant, flavorful cake.

STEP 4 Add the eggs, yogurt, olive oil and lemon juice into the bowl with the granulated sugar. Whisk to combine.

STEP 5 Add the dry ingredients into the wet ingredients and use a rubber spatula to fold until just combined. Pour into the prepared cake pan and bake until the top if very golden brown and a cake tester comes out clean, about 30-40 minutes. Run a knife around the exterior of the pan and let cool completely. Store covered for up to 1 week.
Pistachio Whipped Cream
In the bowl of a stand mixer fitted with the whisk attachment, combine heavy whipping cream, vanilla, kosher salt and sugar. Gradually turn mixer on to high speed and whip until medium peaks form. Add in the pistachio spread 1 tablespoon at a time until desired flavor. Serve on top of cake. Store extra in the refrigerator.
Vain Vanilla – Baker's Blend $29.99
Emile Henry Salt Pig $42.00
Il Colle Del Gusto – Pistacchiosa Spread $19.95