Fudgy Texas Sheet Cake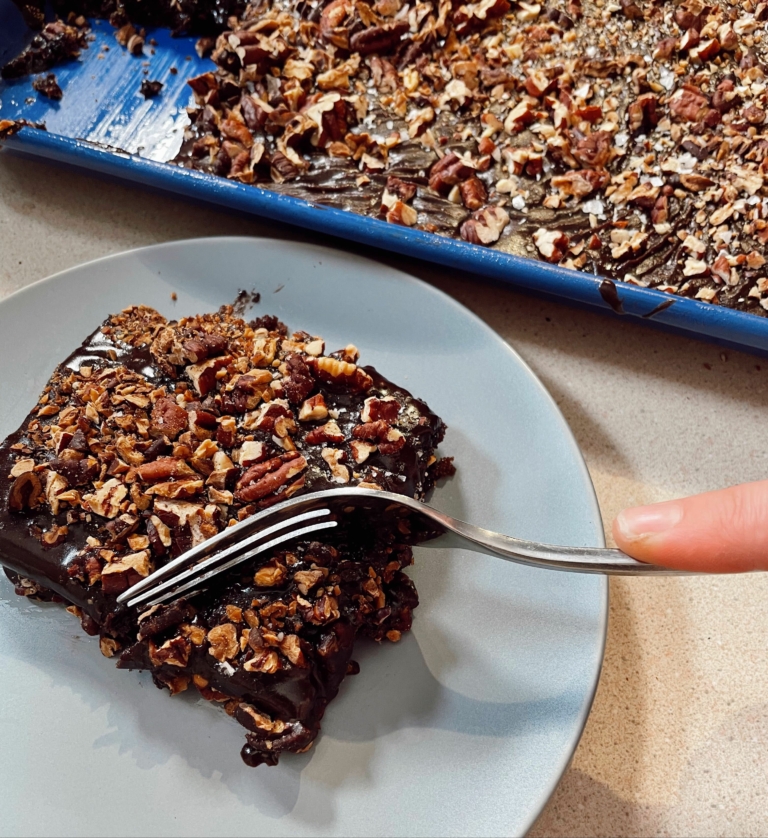 Sheet Cake is one of those vintage desserts that has never quite gone away. Some call it a Texas Sheet Cake because it is as large and flat as Texas, others call it a Sheet Cake because of it being baked in a sheet pan. Others will think of a school cafeteria (feeding the masses, am I right?), but, I on the other hand think of my Grandfather. "Grandpa, what is your favorite type of cake?" I asked as a sweets-obsessed child. "Sheet Cake" my Grandpa replied. No flavor, no distinguishing characteristics - just a flat cake in a sheet tray with frosting. With that kind of artistic freedom for a baker, I know that he would love this luxurious, fudge-y, and somehow not-crazy-rich chocolate sheet cake studded with toasted pecans. With how uncomplicated and easy this recipe is, I hope in the future my kids want Sheet Cakes for all of their birthdays. I can tell them that they lovingly take after their Grandfather, but in reality I can relish in the fact that I only had to use one bowl, one pot, and one sheet tray for a whole cake. -- Claire
Ingredients
Cake
2

cups

coarsely chopped pecans or walnuts

1

cup

(227 grams) unsalted butter

plus more for greasing pan

1/3

cup

(40 grams) unsweetened natural cocoa powder

1

cup

hot water or hot coffee

2

cups

(255 grams) all-purpose flour

2

cups

(400 grams) granulated sugar

1

teaspoon

baking soda

1/2

teaspoon

kosher salt

1

teaspoon

ground cinnamon

optional

1/2

cup

(115 grams) sour cream or whole fat plain yogurt

2

large

eggs

beaten

1

teaspoon

pure vanilla extract

Flaky Sea Salt

for garnish
Icing
3/4

cup

(170 grams) unsalted butter

1/3

cup

(40 grams) unsweetened natural cocoa powder

2.5

cups

(360 grams) powdered sugar

1/4

cup

(60 grams) whole milk

1

teaspoon

pure vanilla extract
Preparation
Preheat oven to 350 degrees F. Add nuts to a sheet tray and lightly toast until fragrant, about 5-7 minutes. Let cool.

Melt butter in a large saucepan over medium heat. When butter is completely melted, add in cocoa powder and whisk until combined. Let come to a boil, then add hot coffee or water. Whisk to combine, and once it comes to a boil again, turn off the heat. Set aside.

In a mixing bowl combine flour, sugar, baking soda, and salt (and optional cinnamon). Whisk to combine. Make a well in the center of the dry ingredients and pour in warm butter mixture. Whisk to combine. Add in yogurt or sour cream, eggs, and vanilla. Mix to combine, it is okay if there are lumps!

Spray a full sized rimmed baking sheet with nonstick cooking spray and line with parchment. Pour batter evenly over pan and smooth out until even. Bake for 7-10 minutes, or until cake lightly springs back when pressed. Let cool.

In the same saucepan that the butter and chocolate mixture was in, melt butter over medium heat. When butter is melted, add in cocoa powder and whisk to combine making sure there are no lumps. Bring the mixture up to a simmer, remove from heat and add powdered sugar, milk, and vanilla. The mixture should be at a thick chocolate sauce consistency. 

Pour chocolate frosting all over cake and smooth with an offset spatula. Sprinkle toasted nuts over frosting while the frosting is still warm. Sprinkle with flaky sea salt, if using. Allow for frosting to set, and serve. Cake can stay in an airtight container at room temperature for up to 5 days.
Notes
Recipe adapted from The New York Times