Claire's Favorite Banana Bread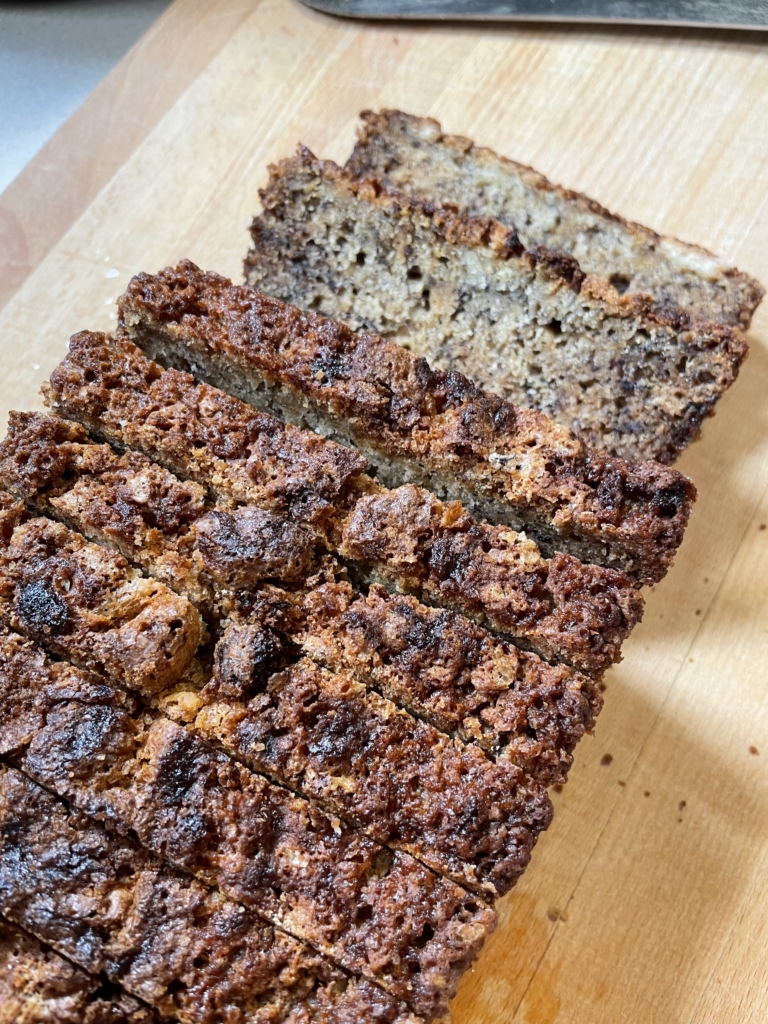 When I graduated from high school, my mom compiled a binder full of all of the recipes that my sister and I grew up eating and loving to cook. While I did not go far for college, I was still able to cook and share some of my favorite recipes. To this day it is one of the best gifts I have ever received.
This is a take on my mom's favorite banana bread recipe - from the Kona Inn. The original recipe I found was very sweet and very dense. I was looking for more of the rounded top and a delicate crumb texture. After I tested a few different recipes, I found myself going back to the Kona Inn recipe - but this time I played with leaveners. The end result was a slightly-domed, impossibly moist, sweet bread that can stay on your countertop for much of the week and freezes beautifully. - Claire
Ingredients
2

cups (400 grams)

granulated sugar

2

sticks (8 ounces)

unsalted butter

softened

6

each (about 3 cups)

bananas

very ripe, peeled and mashed

3

large

eggs

lightly beaten

1

teaspoon

vanilla extract

2.5

cups (300 grams)

cake flour or all-purpose flour

2

teaspoons

baking soda

1

tablespoon

baking powder

2

teaspoons

kosher salt

Turbinado sugar

for sprinkling on top
Preparation
Preheat oven to 350 degrees Fahrenheit. Prepare two loaf pans by spraying with nonstick spray, and cutting a piece of parchment to fit as a sling (fitted width-wise to easily lift cake out). Place the parchment in the bottom of each pan and set aside.

In a mixing bowl using a hand mixer or stand mixer with paddle attachment, cream together sugar and softened butter until fluffy, making sure to scrape down the bowl. Add in mashed bananas, eggs and vanilla, mix to combine.

In another mixing bowl, whisk together cake flour, baking soda, baking powder, and kosher salt. Add dry ingredients to butter mixture, and using a rubber spatula, fold dry into wet until no dry flour remains.

Divide batter evenly into prepared loaf pans, smooth out the top, and sprinkle a layer of turbinado sugar (We love a nice crunchy topping!).

Bake for 45-50 minutes, or until a cake tester comes out mostly clean and the top is nicely browned. This is a very moist cake that you don't want to over-bake, so a few crumbs clinging to a cake tester/toothpick is good!

To store, wrap bread tightly in plastic wrap and keep at room temperature for up to 7 days. This bread can also be frozen.