Miso Citrus Loaf Cake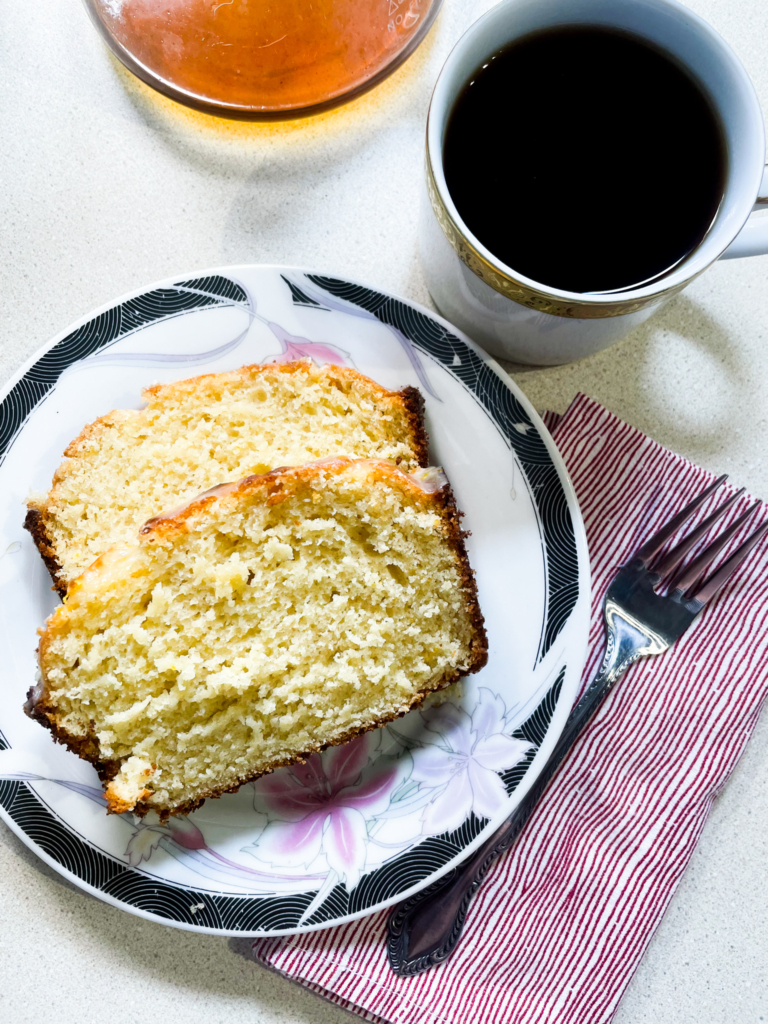 I really love the concept of the 'Snacking Cake', or basically a cake or loaf that I can have on my counter for a week and snack off of. A bite with my coffee in the morning, a bite after dinner - while it might not be the best thing (I live by myself so there is no one to judge!) I really enjoy just a little something sweet throughout the day.
In this loaf cake, there are lots of fantastic ingredients that lend towards the moist, slightly crumb-y texture that makes this cake so fabulous. First, it is olive oil based, my secret for great cakes and breads! Olive oil helps with the cake's 'counter-stability' - meaning it won't dry out the minute the first slice is gone. Second, I love adding yogurt to cakes to help with additional moisture and to create a tender crumb. The miso really adds a nice savory-ness that makes this cake not too sweet and not too savory and totally delicious.
Bake this for yourself, family, and friends and see why this is a cake that goes into my hosting repertoire! Play around, add different citrus, a different glaze - make it your own, and above all enjoy!
- Claire
Ingredients
Miso Citrus Cake
1 3/4

cups (238 grams)

all-purpose flour

1 3/4

teaspoon

baking powder

1/4

teaspoon

baking soda

3/4

cup (150 grams)

granulated sugar

Zest of one lemon, orange, or grapefruit

Heavy 1/3

cup (85 grams)

olive oil

1/2

cup (100 grams)

whole-fat plain Greek yogurt

1/4

cup (70 grams)

white miso

2

large

eggs

at room temperature

1 1/2

teaspoons

vanilla extract

1/2

cup (100 grams)

whole-fat buttermilk

well shaken
Maple Citrus Glaze
1

teaspoon

chosen citrus fruit

zest

1/2

of your chosen citrus fruit

juiced

1

cup (100 grams)

powdered sugar

plus more to adjust consistency

pinch

kosher salt

1

tablespoon (20 grams)

maple syrup
Preparation
Cake
Preheat oven to 350 degrees. Prepare loaf pan by spraying with non-stick spray or brushing sides with olive oil with a silicone pastry brush. Set aside

Whisk together flour, baking powder, and baking soda.

Put the sugar and the citrus zest into a bowl and using your fingers, work the zest into the sugar releasing the citrus oils. The sugar should start to have a slightly-moist texture and mixture should start to become fragrant. Add in olive oil, yogurt, and miso. Using a whisk, mix to combine.

Add in the eggs one at a time, and mix thoroughly to combine. Fold in dry ingredients, and right before mixture is completely combined, slowly add in buttermilk and mix thoroughly.

Pour batter into pan, and using a rubber spatula smooth out the top.

Bake for 50-55 minutes, checking after 30. If top is getting too browned, cover the top loosely with aluminum foil and continue baking. Once finished, the cake should be pulling away from the sides of the pan and when a cake tester in inserted, it should come out clean.

Let pan cool slightly for 5-10 minutes. Then run a butter knife around the sides of the pan, invert pan to remove loaf then set up-right.
Glaze
To make glaze, add all ingredients into a bowl and whisk to combine. If you want a thicker glaze add more powdered sugar, if you want a looser add more juice or water until your desired consistency is achieved.

Pour glaze over slightly cooled cake.

To store, place cake in an airtight container and store for up to 6 days on the counter.