Cake Cones with Ovaltine Frosting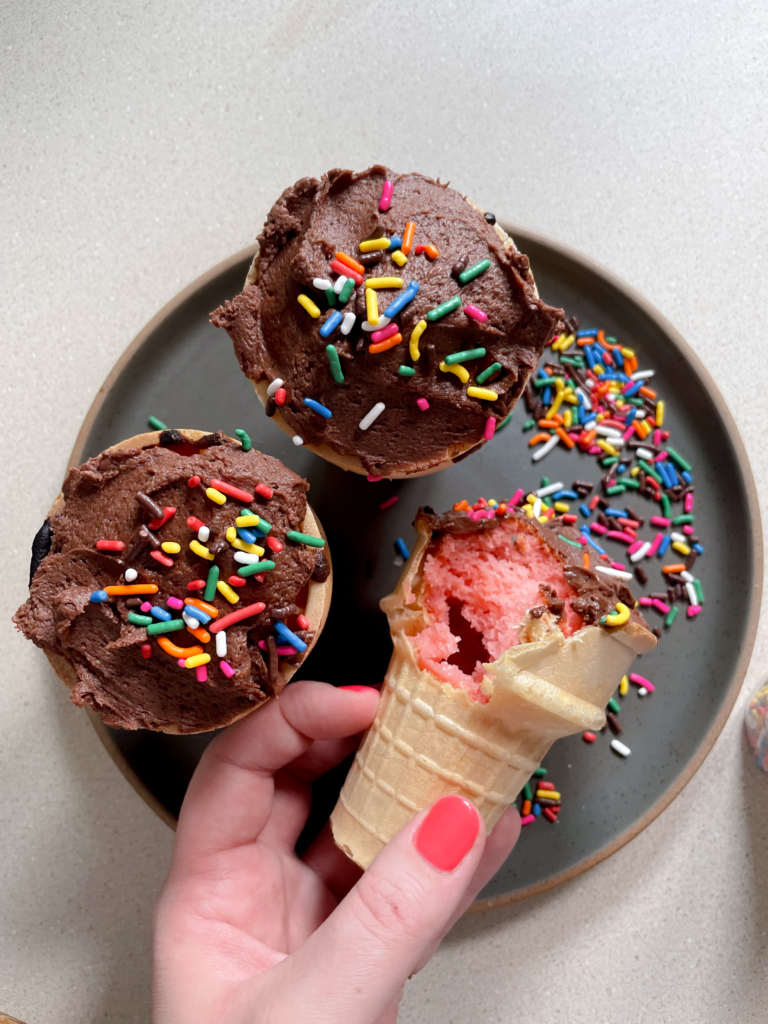 Picture this: summer break, you are at the pool with your friends to celebrate a birthday. What does someone bring out to enjoy? Flat-bottomed cones filled with a cupcake and topped with frosting and sprinkles. All is right in the world.
Through these recipes, I want to invoke a sense of nostalgia and appreciation that sometimes simple is best! Make these with your kids or for your next summer pool party, and enjoy!
Ingredients
Vanilla & Strawberry Cake Cones
24

Flat-Bottomed Cake Cones

1

box

strawberry cake mix

1

box

vanilla cake mix

6

eggs

divided

1/2

cup

canola or vegetable oil

divided

2

tablespoons

vanilla extract

1/4

cup

raspberry jam

rainbow sprinkles

for garnish
Ovaltine Frosting
1

cup

unsalted butter

at room-temperature

1

cup

Ovaltine Chocolate Malt Powder

1/2

teaspoon

kosher salt

1/4

cup

cocoa powder

3-5

cups

powdered sugar

1/4

cup

heavy cream

plus more depending on texture
Preparation
Preheat oven to 350 degrees. Prepare a 9x13 baking dish, or any baking dish with tall sides. Line up ice cream cones to touch in baking dish.

In two large mixing bowls, prepare cake mix as according to directions on back of box with the addition of 1 tablespoon of vanilla extract in each bowl of batter.

To fill strawberry cones: using a liquid measuring cup, or anything with a spout - pour strawberry batter into cone only filling about 3/4 of the cone.

To fill vanilla cones: using a liquid measuring cup, or anything with a pour spout - pour in vanilla cake mix and add a spoon full of jam to the top. Using a toothpick or a skewer, swirl together jam and cake batter.

Line up cake cones so they are fulling standing up, and bake until cake is baked through - about 20-25 minutes. Use a tester to get all the way to the bottom of the cone - if they are not baked through and the tops are browning, cover with aluminum foil until baked through. Let cool

To make frosting: using either a stand mixer fitted with the paddle attachment or a hand mixer, add in butter, ovaltine, salt, and cocoa powder - mix to combine. Slowly add in powdered sugar, 1 cup at a time until you have a whipped frosting. Adjust consistency as needed with heavy cream.

To decorate: add about 2 tablespoons of frosting to the top of each cake cone and spread using an offset spatula or knife. Garnish with rainbow sprinkles.