Butternut Squash & Saffron Risotto with Creme Fraiche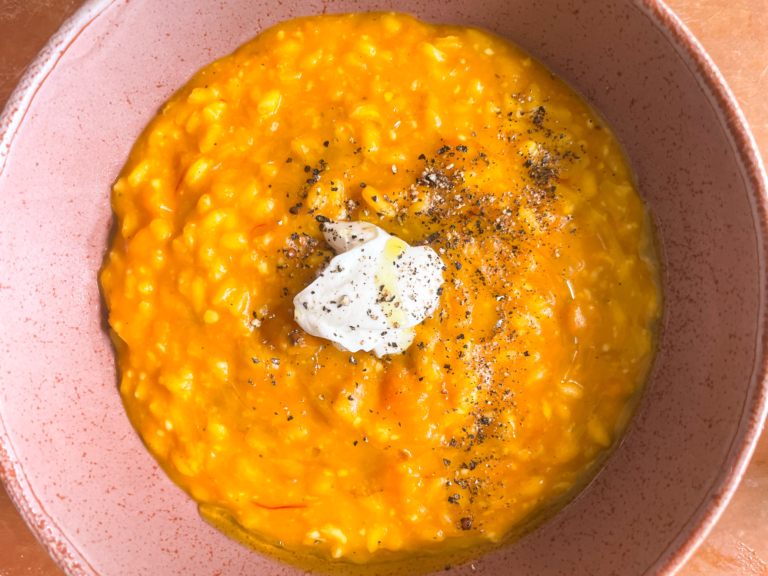 When the weather starts to turn crisp and chilly, I turn to relaxing, comforting meals to get into the mood. Risotto is one of those meals that I love to make for friends and family. It does not take too much prep work and it is always a crowd pleaser.
Ingredients
1

butternut squash

diced small

1

tablespoon

olive oil

kosher salt

black pepper

2

tablespoons

unsalted butter

divided

1

onion

diced

2

cloves

garlic

minced

1

cup

arborio rice

1/2

cup

dry white wine

1

pinch

saffron

1

quart

chicken or vegetable stock

1/3

cup

parmesan cheese

plus more for garnish

2

tablespoons

creme fraiche

divided

good olive oil

for garnish
Preparation
Preheat oven to 375 degrees. On a parchment lined baking sheet, add butternut squash, olive oil, and kosher salt and pepper. Toss to combine and roast until slightly caramelized and soft. About 20 minutes. Set aside.

In a heavy bottom pot, add in 1 tablespoon butter, onion, garlic, and a pinch of kosher salt. Saute vegetables until softened and almost translucent.

Add in arborio rice and mix to combine. Look for a slight crackling sound and the rice getting a faint brown color to know that you are ready to move on to the next step.

Add in wine, and using a wooden spoon scrape up any browned bits on the bottom of the pan. Cook a majority of the wine off, leaving the bottom of the pan with a small amount of liquid. Add in saffron and butternut squash and mix to combine.

Add in about 1 cup of the stock to the rice mixture, stirring until the rice is just barely covered. Stir occasionally to prevent any sticking to the bottom, and to allow the rice to release its starch. Once you can see the tops of the rice, add in just enough stock to cover. Stirring every few minutes. Repeat process until all the stock is gone, or until the rice is cooked through.

Once the rice has cooked through, remove from the heat. Add in the remaining 1 tablespoon of butter and mix to combine. Add in parmesan cheese, and season to taste with kosher salt and pepper.

To serve, place a serving of risotto in a bowl. Top with 1 tablespoon of creme fraiche and a drizzle of more olive oil. Enjoy.