The Cutest Easter Cupcakes Ever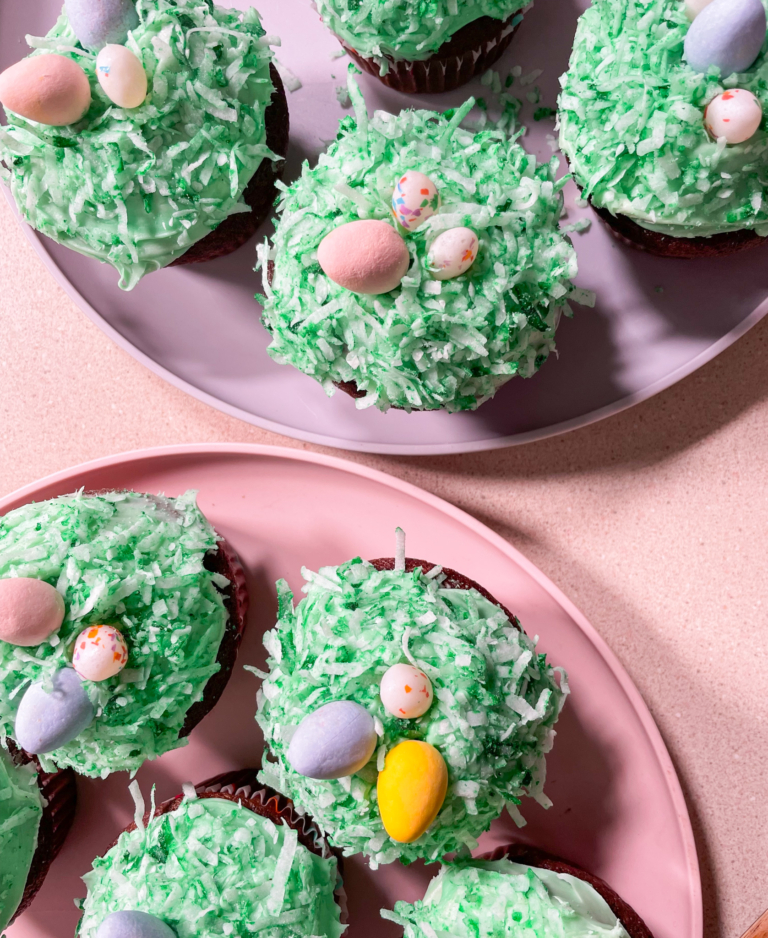 In my opinion, these are the cutest cupcakes to ever exist. They are simple, seasonal, and are perfect for introducing little helpers in the kitchen. I started making these cupcakes with my mom many moons ago. I loved helping to dye the coconut a faint green color and decorate the tops with the perfect combination of jelly beans.
While I love making a homemade chocolate cake, I am going to rely on the professionals here - Betty Crocker has been doing it longer than I have. With the combination of boxed cake mix and whipped frosting in a can, I bet that you will feel a touch less frustrated when a kid at the easter egg hunt just eats the top off of the cupcake.
Chef's note:
I try to go for any kind of boxed cake mix that promises 'super moist' or any synonyms like that. You can of course 'gussy' up any boxed mix with extra eggs, butter versus oil, etc. I just prefer a few teaspoons of vanilla extract.
— Claire
Ingredients
1

Box

Chocolate cake mix

prepared according to directions

Sweetened shredded coconut

Green food coloring

1

14 oz.

Cream cheese frosting

I prefer whipped

Egg shaped candy

jelly beans, Cadbury eggs, etc. Try to buy unwrapped candy to make your life easier
Preparation
Preheat oven according to box directions. Line a muffin tin with a fun, printed liner. Set aside.

Prepare cake mix according to box directions, fill muffin liners 3/4 full to achieve the 'domed' top, or fill 1/2 way for a flatter appearance. Bake according to box directions. Let cupcakes cool completely before decorating.

In a mixing bowl, combine shredded coconut and a few drops of green food coloring. Using a fork, mix the coconut to dye it green. Adjust food coloring based on desired level of green. Set aside.

Add green food coloring directly to the jar of frosting and mix until a uniform green color has been achieved. Add more food coloring until desired color of green has been reached.

To decorate, using an offset spatula or butter knife, spread frosting evenly over cupcake, either dip or sprinkle coconut on top (leave some frosting showing on cupcakes, helps candy stick) and top with candies.

Cupcakes can be left at room temperature, covered for up to 5 days.