Crispy Chicken Tenders & Oven Fries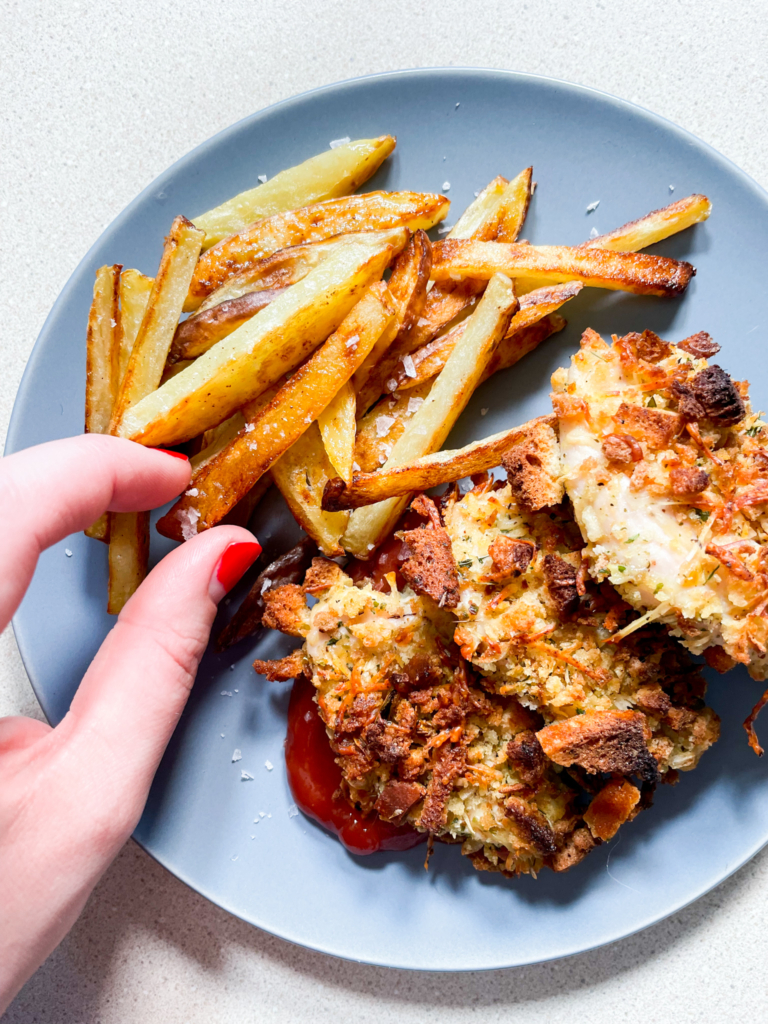 I will have a love affair with chicken tenders until the end of time. The older I have gotten, I tend to not always select the chicken tenders and fries on a menu - but I would argue the combination should go down in history like peanut butter and jelly.
These chicken tenders are another one of my mom's famous (at least to my sister and I) recipes. Whenever my sister visits from Chicago, she is always asking for these tenders. And for a great reason - they are delicious! These tenders could not be more simple to make and a great way to get little helpers involved in the kitchen (and a great introduction if they are attending Camp Tablespoon this summer!). I always suggest slicing the chicken horizontally across the breast to help the tenders cook quicker, but they are incredibly flexible!
P.s. If you missed our super fun virtual chicken tenders class you can always get the recording and learn more about camp here:  https://view.flodesk.com/pages/627af0d0ec932442485964d
— Claire
Ingredients
1

pound

Yukon Gold potatoes

1/4

cup

olive oil

kosher salt

black pepper

1

pound

boneless, skinless chicken breast

4

ounces

unsalted butter

1 stick

1

box

Stovetop Herb Stuffing

1/2

cup

parmesan cheese

grated or shredded

2

tablespoon

dried Italian seasoning

nonstick cooking spray

Your favorite dippings sauces
Preparation
Preheat oven to 400 degrees F. Fill a large bowl with very cold water. Prepare two baking sheets with parchment paper (if not non-stick). One for fries, one for chicken tenders

Wash and dry potatoes. Cut potatoes into planks by slicing vertically down the potato thinly. Once planks have been made, cut potatoes into a fry or matchstick shape. Place cut fries into cold water to prevent oxidation (potatoes turning brown). Fries that are cut thinner get crispier and take less time to cook!

Drain off the water from the potatoes, add them to sheets of paper towels or a dish towel and pat dry. Add fries back to empty bowl and toss with olive oil, salt and pepper.

Lay fries out in an even layer and bake until fries are crisp on the outside and soft on the inside about 15-20 minutes. Start with a 10 minute timer, rotating the sheet and tossing the fries.

Place chicken breasts on a cutting board and make slices across the breast (width-wise) making 1/2 inch thick slices. Repeat until all chicken has been cut. Season chicken with salt and pepper.

In a shallow bowl, add herb stuffing, parmesan cheese, and dried herbs. Mix with a fork to combine. In another shallow bowl add melted butter.

Bread the chicken using an assembly line. Try to keep one hand for wet ingredients, and one hand for dry. Take a piece of chicken, dip both sides in butter, then place in the breading and press to coat. Place each piece on the prepared baking sheet and continue with remaining chicken making sure to leave space between each piece.

Place baking sheet in oven and bake until they are golden brown and you can hear a light sizzling sound. The internal temperature should reach 165 degrees F on an instant read thermometer, about 20-30 minutes.

To serve, place finished fries and chicken tenders on a plate and enjoy with your favorite dipping sauce.